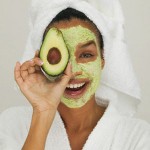 To look beautiful it is essential that your facial skin is hydrated and properly nourished. In case you have dry or very dry skin, and if your skin is sensitive, you need a proper moisturiser to make your face look beautiful. In such a case it is not advisable to spend your paycheque on purchase of chemicals for skin care. Instead you should go in for natural products which are more beneficial and less costly.
To tighten your skin pores, remove excess oil or to moisturise your skin you need a natural face pack and avocado mask is one of the best natural products for this purpose. Avocado is rich in Vitamin A, B2, B3 & C. It is also rich in iron, proteins, potassium and contains amino acids. To make a face pack, selection of the fruit is essential. Avocado should not be under ripe or too ripe. The properly ripe fruit can be chosen by gently pressing it. Fruit pulp should be soft and easy to mash.
To make a face mask you need the following:
Two ounces of avocado pulp
One ounce orange juice
One teaspoon of honey
One teaspoon of molasses
Few drops of chamomile essential oil
To make a face mask, put all the contents in a blender and blend them properly to get a uniform mixture. If you do not have a blender there is no need to worry, just blend all the products with a hand blender or a fork. Apply this paste on your face and neck. Be careful to avoid its application in the region of eyes. Let the mask dry for about thirty minutes and wash with slightly warm water. Immediately you will notice the change in the texture of your skin.
In case of extremely dry skin which has started to develop wrinkles, try this mask. In two table spoons of avocado pulp, add two table spoons of honey and one egg yolk. After blending these properly apply the mixture to your face and neck, avoiding eyes.  Let it be there for about thirty minutes and wash with warm water. Give a final rinse using cold water and notice the difference before and after application of this mask. In case you are allergic to egg or do not like its smell, you can prepare the mask of mixture of avocado honey and yogurt, or simply avocado and yogurt. This will also work well to moisturise and rejuvenate your dry skin.
Avocado facial mask has benefits for oily skin women. In avocado pulp mix one egg white and lemon juice. Blend and apply on your face. This will help dry out excess oil and you will have dry but not dehydrated skin.