Jewelery is an important accessory for every woman. Depending upon the purchasing capacity, each woman tries to buy and store jewelery to be worn on formal and informal occasions. There were times when jewellery was manufactured using only gold. With passage of time jewellers started making jewellery using platinum, a shiny metal suited for studding of diamonds. Platinum being very costly, to cut down on cost, silver started to substitute these precious metals. With time cost of silver has also gone up.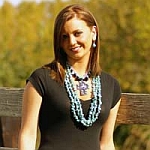 To make jewellery affordable, innovative manufacturers have started making jewellery using brass and artificial fibre of shining golden color. Similarly, in place of diamonds artificial diamonds are studded in silver or some other metal. Artificial pearls have replaced real cultured pearls. Items of jewellery are also studded with artificial stones made of plastic etc. Mainly the pieces of jewellery comprises of rings to be worn in fingers, earrings for your ears, bracelets for hands, necklaces for neck and other pieces to be used as brooches for your coat or shirt or for wearing on the hat.
The selection of jewellery should be such that you do not look over decked and it should match your dress. Jewellery suitable for Indian clothes may not go well with jeans. While buying jewellery one should not be carried away with the shape as displayed in the store. Primary consideration should be your dress sense, your color and the like. You should keep separate jewellery for formal and informal occasions.
The following items of jewellery may be necessary for your wardrobe:
You may need to keep a few set of earrings of different sizes, lengths or styles. These can be made of gold or plated with gold. You will also require earrings made of white metal studded with diamonds -natural or artificial. Pave earrings for the evenings may be necessary.
For necklaces you can have pearl necklaces of different lengths and with different number of strings filled with them. These can be of different sizes, shapes and color of the pearls. To cut cost you can go in for synthetic pearls. Having necklaces of gold or silver to be worn with pearls will add glamour to your wardrobe.
With gold or silver necklaces you will need similar bracelets. These will look good with everything you wear. Eye catching shining bracelets of gold or silver color will add attraction to you. While purchasing bracelets consider going in for cuff bracelets. These are easy to put on and take off and you may not require assistance of a third person.
Pin or brooches you buy should accomplish your mood. Bright and colourful pins will help jazz up your jacket. Ensure to buy elegant and pretty looking pins. These can be attached to gold or pearl necklaces to give it altogether new look.