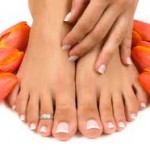 When you go in for beauty treatments, your priority is the face. Next you concentrate on acquiring an ideal body shape by exercising and dieting. These activities take up your time and you often ignore your hair, hands and feet. The care of your feet is important as they bear the entire weight of the body.
If they get dusty and dry the heels will crack and the soles of the feet will get hard and callused.  Either get a pedicure done from a saloon or do one at home. Add a capful of shampoo and the juice of half a lemon to some warm water in a basin. Soak your feet in it for fifteen to twenty minutes. Then remove dead skin using a scraper. Pat dry and massage well with extra virgin olive oil. It will heal and moisturise your feet as it is rich in Vitamin E. Massage your legs too with this oil.
To make a pedicure a pleasant experience, you can add a few drops of essential oil in the water. The perfume will relax you. To soften and moisturise your feet, you can pamper them with a milk bath. The mild acids in the milk will cleanse your feet.
When you are outdoors, do not forget to put sunscreen on the exposed part of the legs. It will protect the skin on your legs from the harmful effects of the sun and keep them beautiful. Exercises for the legs are essential so that there is proper circulation in them and there are no ugly fat deposits.
Prolonged standing can cause varicose veins so take short breaks to sit and stretch your legs. On the other hand, a long period of sitting can cause feet to swell so avoid that as well. Too much salt in your diet can cause feet to swell so limit salt intake.
High heels make you look attractive and indeed, very few evening wear shoes are available without high heels. They go well with your glamorous clothes. It would be sensible to limit wearing high heels to evening wear and parties but avoid wearing them for long. Keep the high heels for occasional use. For office and daily wear use low healed comfortable shoes. High heels put undue pressure on your feet, tire your leg muscles and put strain on your spine.
You can make your feet look beautiful by other homemade methods like painting your toe nails and having well maintained healthy feets. If your legs get tired, massage them and place them on two pillows when you lie down. They will be slightly elevated and blood collected in them will flow back. A little care will give you legs you can be proud of.