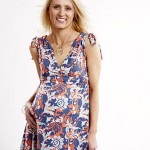 Women who have a bulging belly or curvy buttocks develop a sense of inferiority. They become conscious of their figure and are not in a position to face society with confidence. This lack of confidence results in a number of other problems like depression and frustration. They find it difficult to adjust in the workplace, and in extreme cases, domestic life also gets affected to some extent.
In such a condition your dress comes to your rescue. Fashion changes and sometimes long dresses are in fashion, at another time short dresses. Considering the special features of your body you need to dress in a manner that suits you the best. Some tips will help to minimise the appearance of your tummy bulge and make you feel more confident.
You need to concentrate on the clothes which have the effect of diverting attention from the middle of the body or your stomach towards the upper portion of the body or towards the lower portion of your body, namely legs. Selection of top will play an important part in this respect. Choose a top with design or embroidery of deep and matching colors above the area of your breasts. A shirt with a vertical design and having a knot just above the belly area will also suit you.
After shirt or top, selection of your trousers is equally important. Choose a pant with narrow or tapered legs. Pant with flat front with a zip on side or back should be preferred. Do not go in for tight leggings. A pant with big waist band will be an added advantage.
Skirt selected by you should be such that it does not gather at the waist. A straight slim skirt will do the trick of making you look in a way that your overall line is slimmer. A skirt with a large waist band will suit you. Remember to wear the shirt over the skirt waist and is not tucked in.
While selecting your sweater, select the one which is the tunic type top. The jacket should be of square shape. These are quite roomy and conceal your belly properly. A small print on the jacket will help detract from big stomach.
Your dress should be such that it has design from top to bottom and not across. It should give you a column line look from shoulders to lower part of legs. This will create illusion of you being more linear.
Remember what looks good on you should be your fashion. Do not go by the trend prevailing. Wear a dress which makes you feel comfortable and confident without caring for what others have to say.