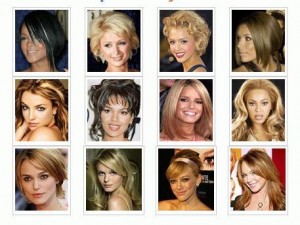 Many people walk into the hair dressers with a belief that when they come out they would look much more attractive with their new hair do. But at times these aspirations don't come true and they feel all the more low. Every time they look at the hair they would wish it would grow much faster than it did as they could change the style.  This error in judging the look after a hair cut could be because the hairdresser didn't discuss the hairstyle with the client. Normally the clients listen to the hairdresser when they come up with better suggestions.
The hairstyle should be chosen based on the shape of the face. There are basically 4 different face shapes. They are round, square, heart and oval.
Heart Shaped
The heart shaped faces are the best to have as they suit all hairstyles. They look great in short hair, long hair and any shape and length in between.
Oval Shaped
People with oval shape should opt to have long hair.  The could have a bangs or pull back hair and tie up a pony tail or have a upswept hairstyle.
Square Shaped
People with square face look better with bangs which offset their square forehead. It looks all the more better if they have shoulder length hair with wispy curls and free flowing styles. Its better to avoid pulling back the hair.
Round Shaped
Round faced people look great with short hair with bangs that gives a bit of height. This would make their face look longer and wispy curls towards the face would make them even more attractive. They should never try pull back styles like pony tail or upswept hairdo. The idea behind the style is to reduces the roundness of the face and not accentuate it in any manner.