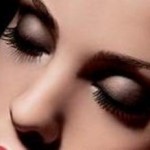 Silver and black go pretty well on eyes and that is exactly why we often apply a blend of the two shades to get the sexy look that we love. It is true that when we blend silver or gold with black, it tends to look much better than what it does when applied all alone. So to get the sultry party look, here is a tip that could have all of you jump for more. All you need to get the aforementioned party look is an eye liner, kohl pencil, white pencil for the inside of your lower lid, silver and black eye shadows preferably with shimmer in them both for a better effect and some foundation for the base of all.
To start with, make sure that you clean your face with a mild soap or cleanser depending up on your skin type. Immediately after that, pat dry your face until it is absolutely dehydrated. Now take the foundation that compliments your skin tone and begin blending it well into the same. Do not take too much of it else your face would look awfully flaky and made-up driving people away from you all through the evening. Remember to always invest in a foundation which is one shade lighter than yours to be able to get the right look.
Once you have evened up your complexion, begin diving into your eye make-up kit for the extremely sexy look for the night. Highlight your brow-line with shimmer base white shadow. This will tend to make them more distinct. Then begin applying the sliver shadow on your lid, from inside to the middle of the same. Don't over do it else you will end up looking like the scary movie character if not anything else. Once that is done, concentrate on the black eye shadow. Take a little on your brush and begin blending well on the outer eye lid area for the ultimate effect. Make sure that both colors blend well and then move on to the mascara. Give your upper and lower lashes extremely thick strokes of the mascara and once it is dry, use the curler to curl them up. This way you will see your lashes turn faster, looking even better than what they do when you curl them first and apply the mascara later.
To end the process, apply a good amount of kohl on the lower lid. Of course don't forget to apply the white pencil on the inside of the lower lid to help your enhance your eye area. This way you will look hot and make heads turn like mad at you.
You could even get a silver eye pencil or an eye liner and get the same effect. Apply the pencil on your lid and use it in combination with the black eye liner for a better result. The end would be same as above and lo and behold, you would once again look like the silver black siren on the prowl.