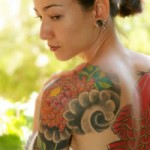 Having a tattoo on the body looks great but some people has very sensitive skin and most paints are not suitable for them.  Those who going for tattoo first time should get one in the back of the hand and after couple days wash the area with soap and water. If there is irritation then the skin is sensitive. Such people could try hand cream on the area to be tattooed.
Those with sensitive skin should have body art done of water based paints. These would wash off in soap and water so they ought to be careful on rainy days.
Henna Tattoo Ink
Henna ink tattoo is suitable for all types of skin and will last for 1-3 weeks. Henna and henna ink kits can be bought at grocery stores, herbal shop or online. They come in black, red and green, blue and amber colors. To make henna mixture at home, the natural henna leaves should be finely ground and mixed with lemon juice and eucalyptus oil, after 2-3 hours, the paste could be applied on the skin directly with paintbrush or a squeeze bottle. The design could be repeatedly remoistened using sugar water to get a good a color on the skin. It takes at least 2 hours for the dye to set. When painting on flat surface like back, it's best to retrace the design with mixture once it dries up. Normally, the actual color of the henna is visible only after 24 hours. Once the designs sets, it stays on for 10 days in thick skin like soles of feet and palms and 3-5 days on soft body parts and dry skin.
If irritation arises due to henna ink or body art paint glycerin could be used to remove it. Also any product that contains Tea Tree oil will help to resolve the condition.
Body Art Paints
Skin Illustrator is a body art paint which is especially designed for sensitive skin and for children. It comes in various colors and produces great designs. This is easy to clean and great for using in carnivals, haunted house, costume parties and plays. The best part is it can be used close to eyes and lips as well. It can be painted using air brush to get variety of effects. But there are two downsides to it.
It's very expensive about $70.00 for a set of 6 or 7 tubes in one grouping.
It's flammable and should not be stored near cigarettes, flames and fire works.
It has to be cleaned with alcohol. Alcohol doesn't cause skin irritation but in some cases it can.
Acrylic paints mixed with one part water to parts of paints can be used for body art. The non alcohol based ones on gentle on the skin and last for several days. These paints would be available in arts and crafts shop.
Snazaroo brand paints are good for use on children as they are non toxic and suit all types of skin. They last up to days if kept away from water. They wash off with water and soap. It's difficult to locate this product as it sold in bulk quantities for fundraising events. So may be worth trying at fundraising supplies shoppe.