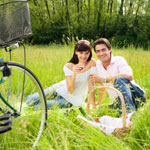 Dating is spending time together to start understanding the other. During the first few dates the effort is to understand the other, however the longer this continues the more is the understanding between the two. In this expensive world where everything is costly, even those with low means can have a lot of fun and can have romantic time by planning in such a way that there is lot of fun at low cost.
Given below are some of the ideas which can be tried to have lot of romance while keeping a tab on cost:
Going for a long drive with a basket full of homemade sandwiches and other eating stuff will enable you to have lot of fun. Going on a long drive to some undecided place and stopping over for snack at some cool or sunny place on the road side will add charm in life. Going for a walk on the hill side or having picnic at a secluded place with lot of food stuff and wine to enjoy, will add to the enjoyment and romance in life.
Doing social work together, which may involve helping the less privileged to make them enjoy an evening, or playing with less privileged or differently abled children, will give immense internal satisfaction to both of you.
Another way of having a romantic date can be going to apple orchard to pluck apples together and thereafter cook them to make tasty apple pie. Working or cooking together makes life romantic and enjoyable.
Going to a movie which suits the taste of both the partners, and snacking on popcorn and soft drinks during the movie, and thereafter going out for dinner will make evening very romantic. It is always not necessary to go to big and expensive restaurants. Even dinner at a wayside small neat cooking joint can make the evening great. After this couple can try playing indoor games, watch favourite TV serial and relax. For some this will be excellent romantic idea to spend the day.
Serving inexpensive food and snacks at home with your own hand on a candle lit table or in bedroom after warm refreshing and relaxing bubble bath, will add to romance in life. This will make her feel special and she will definitely return the gesture. The evening can be made special with dance and soft music. Dancing and dining in the open under the stars will make the evening much better.
These are some of the ideas of low cost romantic date. Depending upon the temperament of the two many more such ideas can be tried.