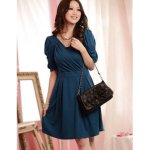 When going out for work or to some social function it is the desire of every woman to look her best. There are women who have good shaped body and maintain the body structure to improve their appearance. This is also a fact that all women do not have body beautiful. This makes them less confident and satisfied. This makes them look for the ways to cover the parts which undermine their confidence.
In such a circumstances clothes come in play, choice of proper clothes for each body shape will help a lot in improving looks. You can even hide your body's flaws with suitable clothes. Before deciding about the clothes, it is essential to understand your body and the parts that need to be covered or exposed fully or partly. Wrong choice of clothes may have a negative effect on how your body will look.  Given below are some tips for selection of right type of clothes:
In case your hips are large as compared to the upper and lower parts of the body and make an ugly curve, you need to dress up in a way that this shortcoming is covered. Do not go in for tight jeans. Go in for wide pants with loose legs and tight at hips. This way the lower part of the body will give a balanced look.
In case you have short legs you will need to look taller wearing high heels. It will be better to cover the heels with your jeans or the trousers you wear. Buy straight legged trousers which start from the stomach and go down to the floor.
Having a big belly is a problem with many older women. In such a case you need to tighten the stomach and wear corset beneath your clothes. In order to shift attention from belly to shoulders you need to wear shirt with loose cut and having designing on the upper portion. In case you have well built arms also, try wearing shirts with sleeves. Do not wear sleeveless as these clothes will re-expose your arms.
Similarly you need to cover other parts of body in such a way that the deficiency becomes less visible. In case of no waist, wearing a wide big belt will help cover this. Wearing loose top and big belt will make you look balanced.
In case of large breasts you may need to wear loose bra which does not push them up, in case you want to expose them buy a push up bra with tight straps. With push up bra you will need a V neck shaped top.
For skinny top wearing a jacket or blazer will help. Having discussion with a fashion designer about the right type of the clothes which will suit you the most will help make you look beautiful.