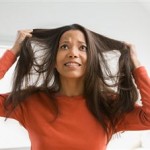 Hair is the crowning glory of each individual. Having beautiful hair is the index of beauty of any lady. Whenever you go to meet someone and enter his or her room the first sight is generally on the hair. In case you have healthy and well groomed hair you will look confident. Hair grows on the scalp and the scalp, roots of the hair and the hair shaft need proper care.
The most common hair problem in women is regarding re-growth and frizzy hair. If these problems are solved you will be able to have beautiful hair of which you can be proud of. Frizziness in the hair is developed due to absence of moisture in the hair and scalp. As a result of absence of moisture the hair becomes dry. To moisturise your hair, apply warm oil and massage well. This will reduce frizziness and give strength both to the roots and the hair shaft.
The next important hair care routine is to trim your hair on a regular basis. It will be better if the hair is trimmed at least once a month. This will prevent splitting of the hair ends. To trim your hair, take a sharp pair of scissors. Holding the hair ends between your fingers cut the ends and comb properly.
Choice of the shampoo also plays an important part in solving the problems related to your hair. First of all you need to ascertain the nature of your hair. These can be dry, normal or oily. Thereafter you need to choose a shampoo. Different shampoos are available for the type of your hair. Select and before use read instructions properly. These are to be followed while you shampoo your hair. It will be better if you go in for shampoo containing more of natural ingredients and lesser quantity of chemicals. Vitamin and protein rich shampoos can be a better choice.
After shampoo application of a conditioner is essential. Different conditioners are available for different type of hair. Your hair cutting expert will be able to guide you in this regard. After removing shampoo apply conditioner and let it remain in the hair for a few minutes and rinse. A conditioner will solve most of the problems relating to hair breaking or thinning of hair.
After washing your hair you generally dry them using a hair drier. Never dry your hair at excessive heat. The drier should be set at low heat and the hair should be dried from upper side downwards.
If you dye your hair, improper choice of the hair dye can be a cause of major hair problem. Some dyes with strong chemicals do give beautiful color to your hair but cause major damage to them.
Following these home remedies and treatments solutions, you will be able to solve major problems relating to your hair.