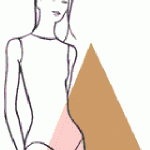 Women of all age groups and figures wish to look beautiful. Some of them are gifted with the body that makes heads turn while the rest never fail to make efforts in a bid to achieve the same. It is a common phenomenon to see women with triangular and inverted triangle figures everywhere you go. The only way to help make such women look beautiful and stylish is by dressing them accordingly.
To begin with, first of all you test your body shape type. In case you think you have a triangle shaped figure, stop fretting and start acting smart. All you need to do is make sure that your top doesn't look to small in inches as compared to your waist line. In such cases women tend to have an over flowing waist line and not a very broad bust which makes them look a little like a triangle. In this situation, they must resort to wearing clothes which are blessed with puffed up sleeves or a nice broad "V" neck that goes a long way in broadening shoulders, thus creating a perfect figure at the end of the day. Pear shaped body are generally known as very similar to triangular shape women and vise versa. So mostly, clothes which are suitable for pear shaped, also work good for triangle shape.
Wrap around skirts which are either long or short will hold the waist line in such a way that it won't look too big and out of place. For a perfect evening wear outfit you might as well choose something with thick shoulder pads and a nice figure clinging waist which will help make you look beautiful.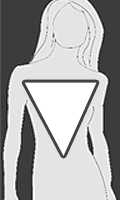 You must learn how to dress for your body shape before start. If you are blessed with an inverted triangle figure, there is still a lot for you to be happy about. The whole idea is to understand your body structure and wear the kind of clothes that will make it look nice. So, in the aforementioned case you could go in for delicate neck lines and not puffed sleeves and deep and broad V necks like in case of the triangle body type. This will help enhance your shoulder width giving your body the perfect shape. Wearing skirts with pleated will help give a bounce to your hips making them appear to look big and voluptuous.
There are many ways to make your body look awesome but all that is possible only when you have the will to achieve the same. Do not get disturbed and begin finding ways and means to look pretty. After all it isn't about beauty alone always. It is also about how much you trust yourself to change and look better.