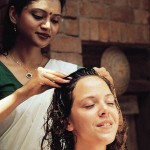 An attractive hair is a dream for all. You might try a lot to make your hair like the model who appear in TV ads. And you may end up with the same result, failure. If yes, don't worry, here is way. You need not pay a big sum to make your hair very attractive. If you follow these suggestions, you can make it by yourself.
1. First of all, you should understand the conditioning needs of your hair. After evaluating this, select a conditioner as per the requirements of your hair.
2. You should also evaluate the time you can devote for hair conditioning. Different conditioners need different set of time. If you are not sure about it, you can consult a hairstylist to get an advice.
3. Trim the end of the hair to avoid slip or damaged hair. This will help to get a healthy hair.
4. The conditioner you selected should be designed to give moisture to your hair. Just apply the conditioner as per the needs of your hair. So, you will get a slimy feel.
5. Cover the hair with a shower cap and place a heating device on the head for minimum twenty minutes. It will help to permeate the conditioner deeply and thereby nourishing your hair.
6. To close the hair shaft again, take off the cap and cool the hair for five to ten minutes.
7. Though you cool your hair, there will be the remaining of conditioners. Then, wrap your hair saran and then with a warm towel and keep it in your head for twenty to thirty minutes.
8. After this, apply shampoo and form the hair at least two times to remove excess oil. In the end of this process, you will become very attractive and frolic as per the tunes of breeze.