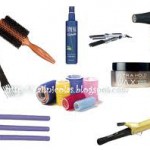 Hairstyling is an important aspect of dressing and looking well groomed. Whenever any person sees you he will first notice your face and hair style. For proper hairstyling you need proper accessories. The type of accessories needed will depend upon the purpose for which they are to be used. If you are looking for accessories for your own makeup and use you may need different type of gadgets. If you are looking for accessories to open and operate a hairstyling salon the requirement may be different.
Hairstyling tools are generally available at all stores. The choice of the correct type of the tool should be made after giving it some thought. The three necessary tools that are a must for hair styling are, scissors, combs and brushes and blowers/dryers. Hair stylist need to have a good quality of standard scissors to cut the hair. In addition she will need jagged teeth scissors.
After scissors the next is the set of combs and hair brushes. You need to have combs of different width of teeth for combing the hair to remove knots and different type of combs to blow dry hair and to give them shape. Similar hair brushes of different styles will be needed. It is better to buy a complete set of hair brushes. This set will include straight and round brushes to be used for straightening or curling and rolling the hair.
Hair blowers and driers are other essential tools. If you are buying for your own use you need to buy a light weight drier. This will be easy to hold in different positions while working on your hair. If you are buying a one for commercial purpose then you need a different drier which can withstand load. The drier should be equipped with temperature control facility so that you could lower of raise the temperature of the air as per the requirement. This is essential to prevent damage to hair due to long use. Also heat requirement is different for curling and straightening or drying of hair.
For curling or straightening of hair you need curlers and straightening irons. These should be of good quality as you are to handle them and sometimes use them in wet hair. There should be no chance of electric shock. Certified products should be used. In addition these should have provision of variable temperatures. The quality of rollers and hair straightening tongs will also depend upon length and thickness of hair.
In addition you will require general accessories like shampoos, conditioners, hair mousses, styling gel etc. Always remember to keep your tools clean and hygienic.