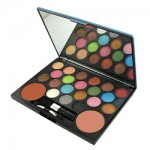 In today's modern world, it would be hard to find any women without makeup. What may be different is the quantity of makeup applied. While some prefer to use little cosmetics to enhance their natural beauty while others try to give a complete different look. Looking good has taken so much of priority in some people's lives that they touch their make up every hour.
But this much of anxiety about make up is unnecessary if it applied properly. If it's applied in the right way, make up can last long hours without redoing or touch ups. Only getting wet in the rain or profusely sweating or extreme tiredness would call for touch ups.
Here is a list of cosmetics that would be going along with women for those moments when they need to touch up their face.
Skin foundation: A skin foundation with a secure lid should be always there is in the purse. It could come in handy to smooth out late afternoon facial shadows, shininess or wrinkles. One point to remember is that the foundation once opened should be used for longer than 6 months. Once is broken there are chances of bacteria entering and multiplying.
Blush: A rouge – type blush, moist or powder would be useful to give a fresh look and also little color to the cheeks. The blush should go with the foundation color. Care should be taken not to over use blush as it may look awful. It should be kept in a secure bag or box to avoid spilling in the purse.
Eyeliner: Eyeliner especially in the pencil form is very useful one. Unlike the liquid one it would not drip and would dry up quickly too. Also, it can be used to line the eyelids, darken the eyebrows and some shades can be used to highlight the lip shape too.
Mascara: Beautiful looking eyes with long lashes will never go unnoticed. It's a good way to attractive and seduce the opposite sex. A tube of mascara can do wonders like freshening and lengthening effect. But care should be taken to apply it correctly.
Lipstick or lip gloss: Lipsticks and lip gloss add color to the face. But the shade should go with the outfit. It should not be too bright or too dull. A medium shade would give the correct amount of coverage to the lips.
All though these are the essential elements of makeup, other items could be added depending on the need and availability of space. But effort should be always to carry those items would require minimum application effort and would give appropriate color and clarity to the face.