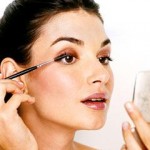 Eyes are one of important features of the face. A good eye makeup can change the look of the face. Here a few ideas of enhancing the look with eye make up. It's a good idea to ask some one to help when trying these ideas for the first time. Care should be taken not to over deck but to the optimum level to give correct amount of emphasis to the eyes.
1. Eye Lightener: Eye lightener is a creamy substance that could be applied around the eyes before applying foundation. Its nicknamed as "Concealer". It helps to hide the dark circles or hollows around the eyes which may appear due to lack of sufficient sleep or illness.   It would give a soft violet shade or some other color depending on the skin color, tone and reduce the dark circles in the face.
2. Colorful eye shadow to brighten eyes: The color of eye shadow used should always go with the person's complexion, eye color and of course outfit. Normally, soft and subtle shades are for daytime wear and slightly darker shades for nights. Its only trial of different shades that would give the one that suits the person perfectly. Neutral shades could be used too between the lid and the brow. Lighter shades have a tendency to make the eyes appear bigger.
3. Eyeliner: Eyeliners come in pencil and in liquid form with brushes. They are used to lengthen and shape the eyebrows, line the eyelids should that they appear denser and define eye size and shape. There are a numerous shades with the popular ones being light brown and black. The best color to use is the one that goes with the eye brow and lash colors. Its better to not to choose to dark shade. While applying, care should be taken to make the lines thin otherwise they would appear unnatural.
4. Mascara: Mascara is applied on the eye lashes to give it a fuller appearance. It comes with its own brushes. The color of mascara should match with the color of eyes and brows and too light or dark ones would make them look artificial. Hair dyes over the counter should be never used for dying eye lashes as they make cause injury to the eyes or even blindness.
5. Tweezers: Tweezers are very useful to keep the eye brows in shape. A hair removal pen would be a better choice for removing tiny hair in the brows and extra hair between the brows. An eye curler would be handy to curl the eye lashes and make them stick together.
From the busy schedule of the day, taking some time off to beautify the eyes would enhance the natural features and give great looks. A cosmetic specialist would be able to give more information on enhancing looks.