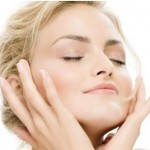 Wrinkles are a part and parcel of the aging process. These start to appear earlier in some people as compared to the others. The primary cause of the wrinkles is breakdown of collagen and elastin in the skin. For toning up the skin various substitutes are given by the dermatologists. In addition healthy and balanced food is also recommended. Above all to firm up the face muscles certain exercises need to be performed.
Facial massage has been found to be very helpful for muscular tone up. Massage helps increase blood circulation and blood vessels are stimulated. Due to increased blood circulation oxygen supply also increases and the muscles get toned up. Massage can be done by yourself just with your fingertips. You need to give circular motion to your skin using fingers.
Yogic exercises are of a great help in toning up the muscles of the whole body including your face. Remember, to start yoga you need the guidance of an expert. Simple yogic exercise for facial muscles is to tilt your head from left to right and then to the other side. Then it should be tilted forward and backward. Open your mouth wide and take the tongue out fully stretched. Look upwards. Muscles of the whole face will be stretched.
Place your thumb in front of your eyes and forefingers on your head. Push the scalp muscles back without the help of fingers using the muscles themselves. Hold for ten seconds, release and relax. Similarly you can place both hands above your eyes pulling them down while smiling wide.
For your cheek muscles, place two fingers under the cheek bone and press. While applying pressure, smile as wide as possible. Hold for ten seconds, release, relax and repeat.
For firming up the muscles of the eyes, hold first and second finger at the corner of the eyes. Close your eyes and blink hard while contracting the muscles around eyes. Repeat ten times. Another exercise suggested is to sit straight, close your eyes and relax the muscles. Then look down towards the ground as far as possible.
For your jaw muscles try to touch the nose with your tongue and push hard. Then push the corners of your mouth down hard and hold for ten seconds. For your jaws you can also place your hands on each side of the face in the line of nostrils, smile as wide as possible and push up gently. Relax and repeat.
All these exercises should be started slowly for a period of ten seconds and repeated a few times. If possible get guidance from some expert.