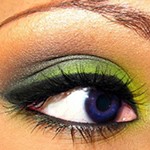 Eye make-up is purely imperfect without the eye shadow. It is true that when you use the eye shadow on your eye lids, you tend give them such a lift that they get evidently noticed by the people around. The most important aspect in this respect is the way the shade of the eye shadow is selected by the one who wants to apply the same. For that, you must first take in to account the color of your skin, the shades of clothes that you generally wear whenever you venture out for parties and other occasions as all this really helps you get the perfect product without a doubt.
If you are a dark skinned person, the world hardly comes to an end for you as there is a lot that you could flaunt in the fashion and the cosmetic industry. To start with, let's say you are going out wearing a silver white evening gown. You might as well choose to boil down on a silver colored eye shadow which would blend pretty well with the dress and your complexion, both at the same time. Such color details should always be borne in mind before investing in any kind of a make-up accessory. To compliment the above mentioned dress and eye shadow, you might as well get your hands on white or silver nail paint. This way you could strike a good balance between your complexion and the make-up requirements so that your looks do not get hampered in any way possible.
Another instance that would help you understand the subject better would be if you are going out to your college and wish to wear something nice and simple, you could boil down to wearing a nude shade eye shadow with a black eye liner and some kohl around your inner lower lid. All this will help you get the simplest of looks with sexiness, both together.
Using blues and greens on your eye lids is also in vogue as of now. You could get a shimmer eye shadow and apply them on your eye lids, concluding with some kohl on the insides of the lower lids as mentioned above for the ultimate look.
Eye shadows are a must when it comes to eye make-up. But one must be sure of the colors that would suit their complexion for if you end up choosing something that doesn't gel with your dress and skin tone, you will still stand out in the party, but for different reasons for sure.
So remember to choose the right shade and get the look for the occasion!