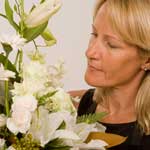 Flowers, God's precious creation has always been a favourite with most of us. In fact it is said that when god did not know how to express affection, love, he created flowers. These beautiful formations have always amazed and fascinated us all.
From congratulatory to farewell, flowers have often filled the space of silence and also added to the occasion. Seldom do we realise the importance of these wonderful creations.
There is a lot of flora around us, but to be able to mix and match the perfect, is an art to reckon with. It is this bright opportunity that waits to be explored by someone with a creative and innovative bend of mind, thus manifesting the potential of the commercial aspect of this vocation.
With the signature concept being the mantra of the day, it will help you earn a little extra if you are willing to go that extra mile. Perhaps the only requirement would be to invest in the best of seeds, manure and water. Remember, plants are living and the more you care, nurture them with tenderness and love, the more they bloom. Of course, you need to keep in mind the appropriate flowers suited to your climate and accordingly tend for them.
The process does not end at only growing the flowers, you could go a step further and gift a few of personal creations to your friends and family, thereby showcasing your talent in arrangement. This will help in creating a sound network and cliental since businesses initially bank on word of mouth. Those who have invested in this arena are earning good. They swear by this profession as the return on investment here is two times higher and that too with little capital involved.
It is your ingenuity, design and display that would need an audience. Once that is established, there is no looking back. Since people today have discerning tastes, your exclusivity would have them asking for more, wherein attending to customised arrangement would give your brand extra mileage.
Furthermore, there are numerous exotic flowers making their way in the market. You could explore the option of getting these exotica's and creating a masterpiece with each of them. Here, you will need to be up and early at the wholesale flower mart. Usually a good discount is given on bulk buying, thus you can make the most of this golden opportunity. Ensure that you visit each and every vendor before settling for the one you get maximum variety from. In this scenario the investment is high since you are buying flowers from a vendor, and will require various add-ons, embellishments etc. Ensure that you get the best.
Perhaps the only downside this vocation would be the fact that every day would be a new day and you would need to scout for your perfect blooms. But if it is artistic palette you are looking at satiating, look no further. This profession guarantees a satisfaction of conceiving, the art of presenting and finally the reward of appreciation. What more could you ask for? Definitely flowers do have power!