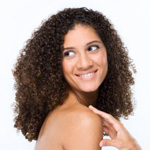 A lady with curly hair can look gorgeous provided she is able to manage and maintain them well and spend time on her hair. It can sometimes take hours for the curls to be managed properly. A number of hairstyles have been suggested by hair specialists but the issue can be maintaining the curls well. However, there a large number of easy hairstyles for the girls with curly hair which are easy to maintain and will give a nice look to the girl.
Naturally curly hair can be of different shapes and are of different sizes. What size and shape are chosen will depend upon person to person. Choice of the right shape and size depends upon the decision of the person who has curly hair and also depends upon the person who does the designing for you.
In case of the hair which tends to lose the curls when the hair is cut short, long hair can be a good option. Long cuts give a feminine and romantic look. Long curly hair with layers tends to remove bulky look normally associated with curly hair.
In addition to long cuts, a girl can also opt for medium or medium long cut. This way the look of bushy hair can be eliminated. Those with shorter frame of the face will look exceptionally good. When curly hair dries they tend to look shorter, the extent of shortening on drying should be kept in mind when going in for medium cut.
If you decide to go in for a shorter cut, it should be kept in mind that shorter curly hair tends to look messy. The natural texture of the hair should be kept in mind. Curly bob hair is a fashion statement these days. Layered short hair can give you a sexy look if these is maintained and groomed at regular intervals especially when going out.
One of the simplest and easiest hair styles for a girl with naturally curly hair is to simply style the hair with a simple parting by putting the hair straight down from the middle to left or right. The hair should be left to fall free across the shoulders or your back. The parting should be done when the hair is still not fully dry. After parting the hair, apply some gel or mousse and allow it to dry. Once dry mist the hair with a hair spray so that the hair remains in position for the whole day. According to your liking you can move the parting from centre to left side or right side, or try zigzag parting for a unique look.
Another simple quick style can be achieved by cutting the hair to your requirement and clipping the curls back with a clipper. This will prevent the curly hair brushing your face with your every motion.