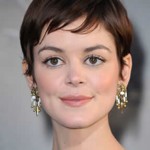 If you are oval faced, you should feel proud of having this shape of the face. Oval shaped people have longer faces. The length is more than the breadth. Oval face is most versatile shape and any hairstyle will suit your facial shape. No matter what the length of the cut of your hair, having layers near your cheek bone or lips will look best. The hair can be longer in the back and shorter in the front. If your structure is such that you are thin built and of short height with oval face, super long hair in the front will make you look younger.
With oval face almost all hair styles will suit you so while deciding the style keep in mind the following rules:
Try to change your hair style often. If the hairstyle has not been changed for a long time do try a new look. Choosing the style from some fashion magazine will help.
As far as possible do not try to change the basic texture of your hair. If you have curly hair trying to straighten them will involve cost. Instead of spending on changing basic texture spending on having a style will be beneficial. If your hair is very thin do not try to have long hair without extensions. Whatever be the amount of money you put in, thin long hair will look lifeless. Avoid going beyond shoulders.
Hairstyle should also depend upon your nature of work. If you are a mom of small kids select the style that does not take a long time a day to make up the style. Keep it simple. The hairstyle should suit your personality and lifestyle.
It is true that with oval shape of face, you can wear any style or shape of the hair- either short or long layered and bobbed. The bangs should be located near that part of the face which you want to accentuate. It will be better to avoid the cut that makes your hair hang in the face or eyes. Care should be taken that the beautiful shape of your face is not covered by the hair style.
In case your decision is to have short hairstyle, have some height on the top and a bang around the region of eyes. The style will not have a negative effect on the length or width of your hair. Avoid covering the face with heavy straight hair across the face bangs. With slight height at the top your face will give a look of it being of square shape, and the charm of oval face will be lost.
You can try having partings at centre or on left or right side. Even zigzag parting can be tried. Whatever style suits you the best should be adopted.