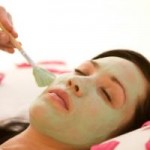 Whenever a woman thinks of beauty aids and wrinkle or aging skin treatment, she starts to think of complex creams containing exotic ingredients and lots of chemicals. This is because ever since she has started to grow up, she has come across models advertising skincare products in magazines to make women look young.
Actually it is better if for treatment of wrinkles you try to find ingredients in your pantry, instead of spending your whole month's pay cheque on some creams. There are inexpensive ways to treat your skin and avoid wrinkling of your skin. If the wrinkles have already appeared, these can be reduced with these products. The products in your fridge or kitchen will be free of chemicals and free from danger of reaction with your delicate skin.
Keeping this in mind it is advisable to prepare natural skin care products or facial masks to eliminate wrinkling effect. The natural ingredients in the recipes of facial masks rejuvenate your skin by nourishing and moisturising it. These products clean and heal your skin, the skin is tightened as a result of the effect of these products and the wrinkles are reduced or eliminated. Whatever you are applying on your skin is in your control.
Grapes are one of the natural products that can be used to make a wrinkle treatment mask at home. Grapes are very rich in calcium, magnesium, potassium, Vitamin B1, B2, B3, B5, B6 and Vitamin C. Grapes also contain flavonoid compound which helps you to have smooth skin. For treatment of wrinkles you can make homemade masks using grapes as the basic ingredient. Some of the masks can be made in the following manner:
Take some grapes and properly clean them, using running water. Then you need to crush them to extract the juice. For this you may use ordinary crusher used for extracting juice or lemons. After extracting the juice remember to put the solid part in a bowl for crushing. Skin and seed are the parts which contain highest antioxidants. Once properly crushed and mashed, mix with juice. To it add equal quantity of yogurt and mix properly to get a homogenous mixture. Then add a few drops of honey and olive oil to this mixture.
Your pack is ready. Spread it on your face using your fingers or cotton ball. Let it remain on your face for about thirty minutes and wash your face using warm water. Immediately you will notice the change. Repeat after three days.
You can make another mask by mixing the grape pulp as prepared above with aloe vera gel in equal quantities. Let it be on your face for about thirty minutes, wash with warm water and notice the results.
Castor oil is also an anti- wrinkling natural oil. You can use it on its own or by mixing with grape juice.