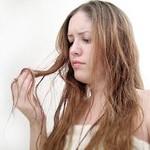 Hair is classified as normal, dry or oily. Before deciding about the hair care methods, it is necessary to understand the type of your hair. Once you have decided about the type then you need to decide about the agent you require for cleaning and taking care of your hair. A large number of shampoos are available in the market which are claimed to be suitable for a particular type of hair. Most of the shampoos available in the market are chemical or petroleum based products and cause harm to your hair and scalp skin.
You will see glossy advertisements in magazines with beautiful models promoting these products. This is possible as the profit margin in these products is very high and to increase sales, big manufacturers are able to spend that type of money. You should not get carried away by these advertisements and spend huge amount of money buying these products. Instead, it will be better if you try natural products and get beautiful hair.
Natural homemade masks for care of dry hair can be made by using most of the products available in your kitchen shelves, or in the alternative you can buy these products from stores located near your home and the cost will not be too much. Given below are some of the natural home recipes to make mask for dry hair:
1. If you have dull and dry hair which has lost natural lustre, you need a hair mask containing honey and lemon pack. To make this you need two table spoons of castor oil, an equal quantity of almond oil. After mixing these oils add two table spoons of lemon juice and equal quantity of honey.
Mix them together and apply on your hair from roots to ends. Ensure to apply the mixture on your scalp and massage using your fingers. Massage will increase blood circulation in the skin of your scalp and hair follicles will be able to absorb the contents. Let the mixture remain in your hair for at least two hours and thereafter wash with slightly warm water. Then apply a conditioner and rinse the hair. Wrap the wet hair in a towel and let it dry to about 80% this way. The skin and hair will get properly hydrated and you will have free flowing beautiful hair. Repeat after four to five days.
This process will make the roots of the hair stronger, scalp skin healthy and hair shafts strong and beautiful.
2. Another homemade hair mask can be made by mixing banana pulp with one egg, three table spoons of milk, three table spoons of honey, and olive oil. Put all the contents in a mixer and stir to get homogeneous mixture. Apply on your hair, wash after two hours and see the results yourself.
3. Coconut oil mixed with camphor will also give excellent results.