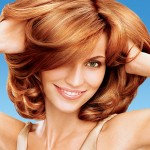 Whatever may be your hair style or the length of your hair, volume makes your hair look full and healthy. The most common appliance used to give volume to your hair is the use of hair drier. It is essential that it should be used properly. Improper use or exposure of the hair to excessive heat may result in irreparable damage to the hair. Often women with thin hair are worried about the shape.
Giving volume to thin hair will make you look good. Though there are different techniques of giving volume to long and short hair, but some general instructions will help a lot.
Always use the drier when your hair is slightly moist or nearly dry. Heat combined with water can damage the hair. Never use brush in damp hair and use a wide toothed comb. Start working from ends towards roots, this will help give volume and also minimise damage to the hair.
To add volume, blow dry your hair by sliding your fingers in the hair and lifting them above the roots.
The roots should be dried to add more volume and to let it stay longer. While using the curling iron or curling brushes, hold your hair high or upwards instead of pulling them down towards the head.
Extra care needs to be taken when drying the tips. To quickly give extra volume to your hair the blow drier should point downwards towards length of the hair so that the heat travels along with the hair shaft. The hair cuticles will be saved of heat preventing over drying and damage. This will help protect natural moisture in your scalp.
Keep the scalp and hair follicles properly moist and nourished. Application of vitamin rich shampoo or hair oil will help. If need be, as suggested by your doctor, you can go in for oral supplements for healthy hair.
For short hair
In case your hair is short and you need to add volume before drying the hair, apply styling foam. Once you have finished styling, apply hair setting spray to keep the volume last longer.
You can make two ponytails on the sides of the head. This will help add volume and make your hair look fuller.
The rollers should be moved inwards and upwards while drying the hair. This movement should be repeated for all the hair and no part of the head should be left out.
For long hair
In case of longer hair the styling iron should be applied up to the level of ears and not below them. While doing this ruffle the hair at the scalp using your fingers.
Get the hair cut in layers and roll out the upper few layers up to the level of your face.
Once you are through styling and blowing out the hair, apply hair care spray to keep the hair intact for full day.