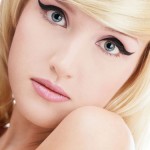 Makeup is used to enhance your looks. Usually it should not be apparent and obtrusive, but sometimes you want to make a bold statement. In that case makeup can be over the top. The best way to change your look is to emphasize your eyes. If you want a dramatic look you can use a dark makeup, for gypsy look colourful eyeliner like green and purple can be used, for a festive look you can try golden hues and add a shimmering look.
It all depends on your mood and the look you want to achieve. Almost everybody can carry of neutral colors like browns and greys, but you have to be careful when using brighter colors. Dark eyeliner can actually make your eyes look smaller. Eyeliner should compliment your hair. If you have dark hair use black or grey liner, for blonde and red hair choose light to medium brown shades.
There are two ways of applying eyeliner and it can either be dark or it can be heavy. As the name suggests, dark eye liner is dark and two coats of eyeliner are used. It is a thin crisp line. In heavy eyeliner it is smudged and seems blended in the eye shadow.
If you want the dark eyeliner look, then this is how to go about it. Apply a neutral shade on the entire brow and eyelid. Then apply a darker shade of the same color to the eyelid only. Begin at the inner eyelid and move outward. Blend the two shades with a small brush so that there are no separating lines. Then take a pencil liner and draw a thin line close to the lash line. Go over this line with a liquid liner of the same color as the pencil. Apply two coats of mascara in a shade that is similar to the liner. This completes the look.
For the thick liner look apply a lighter and then a darker shade of eye shadow as described above. Then apply a third darker shade on the crease by dabbing some color on the outer corner of the eyelid and the lash line. Now it is time to apply the eye liner. Use a creamy liner as it needs to be smudged with a brush. Blend it a little into the eye shadow. Apply another layer of the same liner but do not smudge it. Apply a thin line of the creamy liner to the bottom lash line and smudge it a little. Next apply two coats of mascara.
For this style avoid overly bright colors. You need great élan to carry the style.