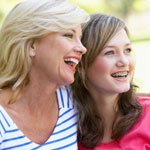 The relationship of step mother, step father and step child is a difficult one and not mostly liked by people. The moment one hears of a step mother the thought which comes first is that she is not looking after the children, is cruel to them or treats them differently from her own children. However, in reality it may be that she is looking after them well. They may be happy at home but for outsiders it is a step relationship.
When a lady decides to marry a man who has children from his first wife, who may be living or dead, she has understand that she will, in all probabilities, have to face some difficulty with the children at one time or the other. It will be better if she discuss the matter with her future husband about the well being and upkeep of the children. It is not that the difficulties can come only due to the behaviour of the mother only but they can be from the side of children also. The maligned person is going to be the step mother.
Children who have lost their mother will find it difficult to accept any other lady in her place. So it is essential that she should be very careful in dealing with the children during early days of her entry in the house. The new mother should under no circumstances try to act or behave like the natural mother of the children. Instead she should show her love and affection as an independent person and should try to win the heart of the children.
To begin with do not try to alter the inner decor of the home till you have fully and properly adjusted with the children. The children will not like to see a change in things to which they are accustomed, and will associate with their real mother. The best is to involve the children in each and every activity at home. This way the closeness will increase. You should accompany the children to their school and playground and mix up with their friends in such a way that they feel proud of you.
Try to exercise maximum patience when discussing anything with the children. Do not try to bring up the topic of their first mother. If you have some complaint about the children and have to tell your husband, ensure that he does not talk to them in a way that the children come to know that you have made a complaint. When you have your own child never let the children feel that you are discriminating between them and the new child. Let them hold and play with your child. This way they will come close to you.
Time taken to adjust fully with step children will depend upon their age and your ability to mix up with them. Be patient, relaxed and willing to adjust for some time, things will be normal.