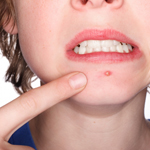 It often happens that when you are eagerly anticipating an important event of your life, where you want to go well dressed and looking radiant, when you get up in the morning you notice a big red pimple or acne on your face. This is quite depressing and is certain to leave you wondering as to what should be done. As a natural instinct the first thought will be to squeeze the pimple so that after the liquid in it flows out, it will look smaller. This is a misconception. Once squeezed it will look bigger and the color of the pimple and the surrounding skin will become redder. The best option is not to touch the blemish, and make an effort to conceal it.
If there is a tendency of acne erupting, make it a regular routine to wash your face with a mild face wash immediately after you get up in the morning, after you finish your work or if you are travelling and exposed to dust or pollution, during the lunch break, and after you finish the day i.e. just before you go to sleep. If you notice some pimples when you last wash your face before bed time, apply some tooth paste on the pimple. Remember that tooth paste is to be applied and not the tooth gel. During the night the size of the pimple will be reduced as tooth paste will dry it. Repeat every night till the blemish is finished.
If there is lot of swelling some antiseptic cream with anti-inflammatory properties may be applied. Before application of this cream test it on some other delicate part of body to ensure that your skin is not allergic to such a cream. Another option can be rubbing some ice on the pimple as this may reduce inflammation. Some people suggest application of warm tea bag or a cloth soaked in hot tea water. The best is what suits you.
If you don't have sufficient time, the only option left is to cover it with makeup. The best option is to apply a thin layer of concealer close to your skin tone directly on the pimple. Once dry, apply regular makeup. Ensure not to apply any moisturiser as it will leave your skin looking oily and the blemish will be predominant. Use of mineral make up will be helpful in two ways. The first being, it is made of natural mineral and is free of chemicals that have no adverse effect on skin. The other benefit is its covering properties are far better than ordinary chemical makeup.