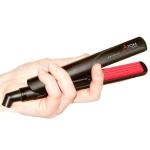 The concept of crimping of hair is summed up in a few words "the messier your hair the better, the bed head look is hot". Although crimping is generally adopted by younger people, anybody of any age or sex can try crimping.  However, it is important to make sure that you have a compatible face shape and hair in good condition.
For crimping of hair on regular basis a crimping iron is required. Before making an investment in a new crimping iron, you may like to crimp your hair by an alternate manner to see how you look with this type of hair. You may ask your hairdresser to crimp your hair to see if you like the changed look.
Crimp hair without crimper or iron, you can try by braiding wet hair into very small and tight braids and then let them dry using hair drier setting its heat level at the minimum. After the hair is fully dry and when you open braids, you will see your crimped hair.
By using crimping iron you can acquire in a fast and easy manner a crimped look. The disadvantage of crimping using crimping iron v/s little braids is that the crimping using heat may damage the hair more. The advantage over applying a number of little braids all over your head is the time factor.  Also, unless the braids are all completely uniform, the crimped look will not be neat. If you decide to crimp your hair but want to avoid damage due to heat, ensure to limit the extent of heat to which your hair are exposed. You can go slowly or go fully out and have your total hairstyle a mass of crimps.
Once after proper study of the shape of your face and the size and shape of your hair you decide to crimp your hair ensure to follow the following steps:
Wash hair with a good moisturizing shampoo and properly rinse them, then apply conditioner.
Apply a final cold water rinse to seal the hair.
Wipe your hair as dry as possible by pressing them or twisting them with a towel.
Use a broad comb to detangle your hair, after using a broad comb again comb using a normal comb.
Apply heat protection spray to your hair, so that due to exposure to heat, minimum damage is caused. There after blow dry your hair on the coolest setting.
When hair is totally dry, use the crimping iron exposing portion of hair at a time depending upon the style needed. Crimping iron can be used on total hair.
If you want more volume, use a volume enhancing shampoo and conditioner and apply a little volume gel to the roots of your hair before you begin to blow dry.