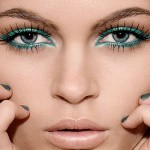 The Arab women have extraordinarily beautiful eyes. They love to apply a lot of kohl primarily for protecting their priced assets apart from helping them look awesome too, in the deal. You hardly come across a girl who doesn't have sharp features which is basically why they are so popularly known in the fashion and the beauty world as well.
For the Arabian eyes, all you need to do is use a lot of black eye shadow and kohl to help accentuate your assets in such a manner than they actually stand out on your face. Remember to keep your cheeks and lips nude so as to help brighten them further more.
For the Arabian look all you require is a black or a dark brown eye shadow, a kohl pencil and some mascara. To begin with, wash your face with cold water and a mild soap or cleanser. Then, dab dry to prepare your skin for the perfect exercise of eye make up that you wish to do on it. Now take a foundation that suits your skin tone and begin blending in to your derma. Once you have done that be sure off dabbing off the excess cream so that your face doesn't end up looking flaky and over made up. Slowly, begin giving your lids the black shadow strokes to make them look nice and dark. Then apply the kohl on the inside of the lower lid and finish with the mascara on both the upper as well as the lower lashes for a thicker look.
You could also try using silver on the lids and merging it with black on the outer area of the upper lid, with kohl on the inside of the lower lid. The silver on the upper lid will leave an impact on who ever looks at you giving your sense of fashion a jump for a change. Eyes always help you look attractive and sexy in case they have been done up well. So make sure each time you go for a party, your eyes compliment the occasion. After all eyes the windows of your soul so make sure that you show the world who you really are.