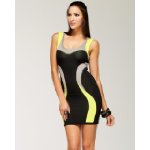 Who wouldn't want to flaunt an hour glass figure in this world? There are millions who go through surgeries and treatments only to be in a position to wear suitable dresses showing off their hourglass bodies. One thing positive about being in shape is that you can wear anything and everything that you want without thinking twice. That is basically due to the hour glass is the perfect shape which means that your hips and shoulders are about the same width and you have a well defined shape.
How to dress for an hourglass body shape is a bit easy. You could begin by using clothes that would highlight your waist, bust and hips without adding bulk at all so that you end up looking good at the end of it all. You could wear,
Fitted or semi-fitted outfits
Soft, clinging and flowing fabrics
Clothes with a defined waist line
Straight flared pants
Also, remember very clearly to 'avoid' wearing the below mentioned kinds of clothes if you have plus size hourglass figure, so that there is no way you end up looking out of place at all,
Anything that you could easily drown in
Anything which is bulky or baggy
Pleated skirts
Keeping the above mentioned rules in mind will always help you to look your best wherever you venture. It is imperative to dress according to your hourglass body shape and size. Be sure of using nice flowing fabrics on your skin so as to give you a younger look. Each time you wear something that is loose and ill-fitting you will come to terms with the fact that it doesn't suit your body type one bit. Try wearing pastel shades and floral patterns when you want to look younger for they tend to reduce age better than the other colors. Loud and jarring shades must always be steered cleared from.
Find out properly, how to clothes that hug your hourglass body will accentuate every part of it, so be sure of doing so if you have an hour glass figure so that you look stunning. If you want to make your bust line bulky use V shaped tops with broad necklines which go way ahead in achieving the same. After all dressing is one of the major requirements when it comes to looking good!