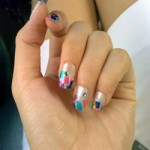 Beautiful long shaped nails make the fingers look beautiful and also add glamour. But not all can have naturally long and shapely nails. So the concept of artificial nails came into being. There has been lot of research into and several types of artificial nails have evolved. These look real, natural and beautiful. There are a number of options to choose from like acrylic nails, gel nails, porcelain nails and silk or fiber wraps. The choice could be made on the budget and effort involved in maintenance. Beauty salons can give advice on these and help to choose the ideal one.
Different types of artificial nails are as follows:
Artificial Acrylic Nails
These are one of the most popular and lost lasting ones. To fix this, the original nail is first filed and tips of the artificial ones are glued on to it. Then a coating of acrylic which is a combination of monomer and powdered polymer is spread on the base of the nail and over the artificial tip. Once dried, it resembles a hard plastic shell. This shell is filed to make it smooth and sculpted and polished.  It looks thicker than natural nails due to the acrylic coat and is stronger too. But they have strong odor.
Porcelain Nails
They resemble acrylic nails in many except that they are made of glass like material which is fine. Therefore they are priced on the higher side, fragile and not very popular.
Artificial Nail Gel
They are popular type of nails, carry natural look but not as sturdy as acrylic nails. They are formed by application and hardening of layers of resin. To make gel nails, the aesthetician will apply artificial tips or use thin layers of foil or other thin fabric for a base to place the gel coating. On exposure to light the resin would harden. As the gels come in various colors they don't have to be painted. Also, they are odorless. On the down side, it's expensive due to process and system involved. Due to the high input cost in procuring the system, most salons don't offer this.
Fiberglass Artificial Nails (Nail Wrap)
To get give the perfect natural look and feel to the nails, nail wrap would be the best option. This is just and enhancement of the real nails with wraps. It's the most inexpensive technique to have beautiful long nails. The popular types of wraps are silk or fiberglass. Both are sturdy materials but the silk fabric is much smoother in texture. But after the application sealant and nail polish, this difference is hardly visible.