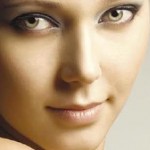 When talking in terms of make-up and lips, all you need to know is that the nude look of your lips is in vogue now. There was a time when the actresses on the black and white screens used to flaunt big black eyes and nude lips confidently. Dint we love that appearance of theirs? Yes, we sure did which is why the nude lip look is back in fashion again.
For the nude look all you need to do is get your eye make up done in such a way that your eyes get accentuated at the end of it all. When your eyes look nice and big, you are left without nothing better than keeping your lips nude. These days with the advent of so many nude shades of lipstick and lip glosses, you just have to pick and choose the one that you want your lips to exhibit and lo and behold, for beauty is right in you!
Nude look could be achieved by applying a lot of kohl all around your eyes so that they stand out on your face and look black like the sexy siren on the prowl. Once that is done, you just need to take your favorite nude lip gloss which simply adds a gloss to your lips without actually coloring them at all. You will be shocked to see how good you look with your lips shining colorlessly or naturally with your eyes looking big and black.
Glossy nude look could be liked by many but there are still those who prefer the mat nude shade to the shimmer one so you could again apply a nice black eye liner on your eye lids with some kohl on the lower lids and a lot of nude lip color on your lips for the ultimate effect.
You might as well have a nude shade with a tinge of pink, purple and orange of which you could choose the one that looks the best on your face and go ahead with flaunting the same smartly.
Nude is in so go on and experiment more of it on your lips!