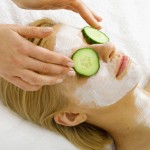 Oily skin could pose serious threats to your complexion unlike the dry or normal skin in many ways. Firstly, in case of oily skin, you will notice that your sebaceous glands are over active due to which your skin would break up in pimples and boils every now and then. This would depress and de-motivate you to take remedial measures for rectifying the problem several times. But if you really wish to get rid of the oily skin menace you just need to pull up your socks each time you think there is trouble around your derma.
To start with, believe in the old grand ma's therapies that are extremely natural, safe and helpful in treating the various skin ailments however serious of bad they are. Take some gram flour for instance and blend it well with curd and salt. Apply this concoction on your face and neck. Leave this pack for not less than fifteen minutes after which you must wash it off with cold water. Following this routinely will help you overcome the oily skin issues within no time at all.
You might as well use the paste of the globally acclaimed herbal Neem leaves and mix them with gram flour. Once that is done, you need to simply apply the same on your face and neck and leave on for half an hour. Wash off with cold water and also try rubbing some ice on your face for immediate relief from pimples.
If none of the above is working you might even try applying egg white with lemon juice on your face and neck. Leave this concoction for ten minutes and wash off. This natural pack will not only rid your skin of all the pimples but also help tighten your pores.
Washing your face with milk every morning also helps a great deal. But when you see that your pimples are still not getting alright you must make it a point to see the skin specialist so as to figure out whatever is wrong with your skin. Some times it has a lot to do with hormones as well which requires professional treatment.
Other home made tips include applying garlic juice on your face for immediate relief. You could even bath in hot water with the juice of two lemons so as to help clear your pores well.
All the aforementioned tips should help you have a clear complexion. If it fails you just need to visit your doctor.