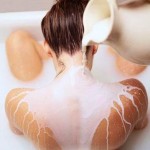 Milk has many benefits. When taken internally it helps to build strong bones and when used on skin it helps to improve the texture of the skin. Milk contains many acids that act on the skin and nourish it.
The component milk is alpha hydroxy acid called the lactic acid that acts a skin cleanser. This acid is very mild and will not cause any burning sensation on the skin.
Milk also contains beta hydroxy acid which is an excellent for exfoliation. When milk is used on the skin, it helps with exfoliation process of removal of dead skin cells on the surface and the appearance of new shiny skin.
Milk Bath Recipe
Some of the milk bath products come with Vitamin-E to condition the skin. But there is no need to invest money on such products as milk contains these vitamins as well.
The fat in the milk helps the skin to be soft and supple. But this fat cannot be provided by skimmed milk where the fat would be totally removed. Milk bath recipe is easy and can be prepared at home, here are the instructions to make a milk bath:
Bath tub with warm water
1 ½ quarts of whole milk
Sauce/Milk Pan
Measuring Cup
Stove/Heater for heating milk
For a milk bath, firstly the milk (quantity could be more than the mentioned amount) should be boiled in low or medium heat in a clean Sauce/Milk Pan. As the milk begins to heat up, the bath tub should be filled warm water. When the milk gets warm (need not boil), it should be poured in the bath tub. This is milk water bath ready getting soaked in milk.
Many find the smell of milk to strong. To get over this, citrus oil, strong scented flower essence like rose oil, crushed herbs such as mint or thyme could be added. Adding lightly crush lavender petals will remove the smell of milk and its fragrance would have a soothing effect as well.
Those who would like to pamper themselves a little more could add chocolate shavings or powdered cocoa to milk and then add it to the water. But chocolate should be added carefully to milk as it can easily burn. Smell of burnt chocolate cannot remove the smell of milk.
After the milk bath, the tub should be washed thoroughly and the person should also take a shower to get rid of the smell of milk and remove the milk residue.