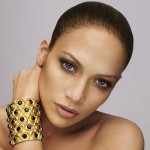 Eye makeup is an art and an important part of makeup. Eyes made up beautifully are captivating, provided the eye makeup lasts. If it begins to look smudgy and faded fairly quickly, the effect of makeup is lost. For those with an oily skin, especially around the eyes this is an everyday affair. They painstakingly apply eye makeup but it does not last long due to oily skin as it is unable to stick properly. Here are some tips to help you to make your eye makeup stay longer time:
Clean your face thoroughly so that the film of oil on it is removed especially around the eyes and eyelids. Choose an alcohol based toner to reduce the oiliness. Many products are available which are meant specifically for oily skin so make use of them.
Apply foundation ten minutes after you apply moisturiser. This will give time to the skin to absorb the moisturiser and present a drier surface. Choose a cake foundation which is silicon based. It will absorb more oil. Apply powder around the eyes to absorb any remaining oil.
If you do not want to use foundation and powder on the eyelids, you can use primer eye shadow. Cover your entire eyelid with eye shadow powder. This will be your primary color which will stand out the most. Then you can use a lighter color above it and below the brow. This will make eye shadow last longer on the eyelids.
Opt for loose powder eye shadow rather than pressed powder eye shadow as the former has more capability to absorb oil. It will give a more natural look. A large quantity of pressed powder eye shadow will have to be applied and when mixed with oil from the skin it will give a cakey look.
Another way to keep your eye makeup from looking messy is to apply a highlight just below your eyebrow following its natural shade. Apply some highlight to the corner of your eyelid too.
Preferably use liquid eyeliner. A pencil liner is easy to use and less messy but it does not last long on oily skin. A liquid liner has four times more staying capacity. Many different shades like black, brown and blue are available.
Use water proof mascara. It will be able to with stand sweat and oil more. Apply a coat of mascara on both upper and lower lashes. Let it dry and apply another coat. This will give a dramatic effect. For an intense look apply a layer of foundation followed by a dark eye shadow and liquid liner on the eyes.