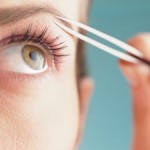 When it comes to the face and eyebrows, you just can't stop thinking of how you could make the two look perfect. Shape is the priority in terms of having the right look and hence, it is imperative to consider this aspect each time you go to the salon to get your eyebrows done. For centuries people have been getting the hair on their face plucked or tweezed or even waxed only to look better than what they usually do.
Decide the shape before start
It is important that when you begin getting your eyebrows plucked, you must have a shape for the same that has been previously decided. Without knowing what shape you would have your eyebrows plucked into, you really wouldn't know where to start and where to end. The shape is always same as what your eyebrows have in them to offer. You could change a little depending upon the availability of hair strands around the brow but when you do not have ample hair which means your eye brows are thin and scanty, you might as well go ahead with simply clearing the extra strands rather than giving a shape to the same.
Don't hurt yourself while plucking
Sometimes the skin around the eyes gets puffed up when you fail to use the plucker well. You have to be careful enough to use the plucker in such a way that your eyebrows look good and so do your eyes at the end of the day. If you end up getting scars and bruises around your eyes, you would end up with a puffed up skin making you look tired and sick most of the time. This also calls for using the right plucker or tweezers instead of sharp edged ones that might end up troubling your skin.
Apply astringent or a moisturizer after tweezing
Once you are over with the plucking and tweezing you might as well use an astringent or a moisturizer to get rid of the redness of the skin. As a matter of fact when you get involved in the process of tweezing the hair around your skin, your pores tend to open up making your skin susceptible to infections due to dirt and grime. So once your work is over, make sure you apply a toner or an astringent to close the pores and give your face the finish that it always deserved.
Check hair growth and apply castor oil every night
If you think your hair is scanty and you cannot really change the shape of your eyebrows, do not fret for there is a solution for every problem in today's world. All you need to do is apply castor oil every night on your eye brow area and steam it a little. Within a month's span you will note that your hair strength has increased. This way you could change the shape of your eyebrows and tweeze them every now and then to get the clean look that you always wanted.