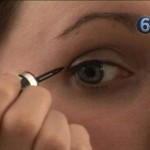 Understanding the art of make up is important and sometimes even indispensable for few. To begin with, whenever you think of attending an evening party or a get-together with friends and family, you need to do up your eyes well. Bring home certain products that would help you get the look for the function without a doubt. The list starts with a liner, mascara, shadow and kohl of course without which no make-up is complete at least for the Asian women.
Wash your face clean and pat dry with a tissue or a soft towel. Then, slowly apply the foundation that blends well with your skin tone making it look even and go for the eye shadow next. Brush up nice clean strokes of the color that appeals to you in such a way that it amalgamates well with your hide. If it looks flaky or smudged up, dab off the excess shadow and re-do the exercise for a better finish. Then take your liner and draw a clean line close to the eye lashes on your upper eye lid to give your eyes a good shape. Finally, with the help of the kohl pencil, draw a line on the inside of the lower lid and check yourself out in the mirror. You will be surprised with the way you turn out for the eye make up generally has the propensity to give your overall appearance a distinct lift.
You could try various tricks with different shades and give yourself a new look in every party that you attend. Make-up definitely helps you conceal the jaggedness and patchiness of your facial skin which is why one must learn to make the most of it. Try experimenting with lenses of various shades too. They won't let you down for once. You could simply walk to the best optician in town and grab the shade of your choice. Using the eye liner with the lenses is another superior way of improving your looks.
Get yourself some multicolored eye pencils of renowned brands. Make sure that the products that you invest in are fresh and not expired like it happens in many cases where women buy cosmetics without even looking into the above details failing which they end up with numerous eye infections and ailments. For example, try using an electric blue and pink eye liner together, just incase your dress has the same colors, with black kohl and a little silver shimmer eye brow highlighter for a change. You will love yourself and so will everybody else wherever you go with that look.
Playing with multicolored eye liners is fun only if you learn the art of using them on your eyes. Take for instance, if you wish to use a tinge of silver on your eyes, you could do that at the outer tip of your eyes. Each time you try something new, you would draw in more attention and compliments too.
Simply applying kohl and walking out for an occasion is also an out of this world idea. All you need to do is know what looks good on your eyes by way of experimenting. The rest will automatically follow suit.