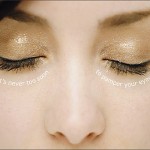 Eyes and the surrounding areas are very delicate and no harsh ingredients should be used nor rubbed hard. They get puffed up, fine line, dark circles etc. There are lots of creams in the market available to treat these. Only the ones designated for the specific condition should be used, none others. For example moisturizing creams and peel off face mask are not intended to be used under the eyes. All creams should be applied till the lower lid and along the outer corner.
Different types of eye conditions and treatment creams
Puffy Eyes appear due to fluid retention or allergies. It arises due to building up of fluids while sleeping. It disappears during the course of the day. It aggravates in those suffering from allergies, sinus or have pre-menstrual syndrome. To reduce the puffiness, head could be elevated a little bit while sleeping, sleeping on the back, tapping gently under the eyes from the left end to the right. Other solutions are places cucumber slices, tea bags, cooling masks, ice and application of gels. Gels are suggested as they dry quickly and don't contain moisturizers like the creams.
Baggy Eyes occur due to fat build up around the eyes.  Due to this septum which contains the eyeball socket become weak and sag down. Creams and gels help to increase the elasticity of the skin which would reduce the size of the bags but it can be completely eliminated only with plastic surgery.
Dark Circles may appear due to genetic conditions of high pigmentation, enlarged blood vessels under the eyes, dehydration, tiredness, medical conditions like thyroid or renal issues, overexposure to sun, menopause and aging. With age the skin under the eyes become delicate the veins protrude out. For large blood vessels, cold compresses will help. If it's hereditary, then dermatologist may prescribe creams to lighten the surface of the skin. Preference should be given to creams with sun protection which will help also to pigmentation. Eye care treatment are available that contain "optical diffusers" which use light to reduce and conceal dark circles. Use of creams with Vitamin K also helps to reduce dark circles.
Fine Lines, Wrinkles and Crows' Feet appear under the eyes and in the corners. This is because the areas under the eyes contain very little oil glands and the every day facial expressions like smiling, laughing etc cause wrinkles. Smoking causes crow's feet. They are very obvious if the skin is dry. Using moisturizers, emollients and products containing Vitamin A, C and E as antioxidants would help to combat this. Especially, Vitamin A available as retinoid, soften the fine lines and wrinkles and protects and strengthens the skin by increasing collagen. A popular of Vitamin A is Retinol
If the right eye cream is not used it leads to infection and irritation. Therefore even while removing eye makeup its best to go for sensitive makeup removers. A cold moist tea bag wrapped in napkins or paper towels would also serve the purpose.
Those who are unsure of their problems could go multitasking creams and give lots of rest to the body and eyes and keep it moisturized.