Every individual is born with a specific body structure. Exercises and dieting can make the person look the best in the given shape but will not change the basic structure. Since it's not possible to change the shape of the bone, knowledge of the shape of the body will help to determine the kind of clothes and workouts that would enhance the overall appearance of the person.
Body shape of women is generally classified as Pear or Spoon, Hour Glass, Apple or Ruler. Men fall under Ruler, Apple or Cone shaped. Here are few tips to determine the shape of the body.
Pear shaped people would have broader bottoms compared to the top, hourglass is the perfect one where the top and bottom are in perfect sync with slim waist line, apple shaped people would be heavy at the waist, ruler shaped people would have hardly any curves and cone shaped people would be heavier at the top compared to the bottoms.
How to know your body Shape?
Best means to identify the body shape is to stand in front of the mirror and look at the figure and try to think which shape it resembles: pear, spoon, hour glass, apple, ruler or cone shaped.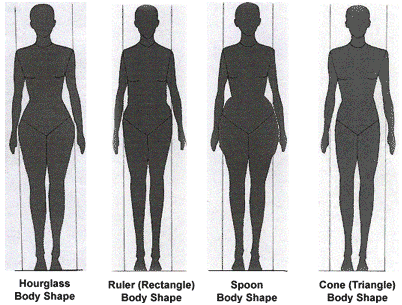 How to measure your body?
Measuring the size of the body parts such chest, waist and hips would help to ascertain the body shape better.  For men the middle of the chest should be measured and for women the breasts. Before measuring, it necessary to exhale to get accurate measurements. The waist measurements should be taken 1 inch above the belly button and hips should be measured across the widest section. It's always better to have some help in measuring to get the exact numbers.
Different types of female body shapes
Hourglass Shape: This is considered as one of the best female body shapes. Where the bust and hips measurements would be almost the same circumference, though the bust can be 'one inch' larger than the hips. The waist would be much smaller. A perfect hourglass shape is where the difference between the 'waist and the bust' and 'waist and hips' is at least 'nine inches'.
Pear or Spoon Shape: If there is a wide difference in measurements between the hips and bust and hardly any between the chest and waist. Hips are 'two inches' or more larger than the bust and waist is less than 9.25″ smaller than the bust.
Ruler(Rectangle) Shape: If there is hardly any difference in the measurements of waist, bust and hips. The waist is less than 'nine inches' smaller than the bust.
Conical(Triangle) Shape: Normally where the bust and waist are same but the hips are 'at least nine inches smaller' than the chest. The standard measurement is, bust 3.6″ or larger than the hips and the waist less than 9″ smaller than the bust.
Apple Shape: If the waist measures larger compared to the hip and chest.