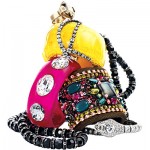 Any party or any get together, those wearing big and bold jewelry get people to turn and give them at least one glance. It speaks a lot about the confidence level of the wearer and also helps to ease the atmosphere when in unfamiliar territory. But it looks great when worn certain types of clothes and accessories. Here are a few tips on how to wear, what other accessories should be used and what should be worn.
Wearing large beads or stones attracts attention and those really comfortable with getting attention are the ones who generally opt for it. These big trinkets suggest confidence and to maintain that look the following has to be adhered to:
The bigger the size of the stone, the more fake it looks. Setting them in white gold or yellow metal or platinum will make them look real and also not cost too much.
Large piece of jewelry stand out if it's the only one that attracts the attention. When such jewelry is worn the other accessories should be simple and dress should be subdued as well.
Large floral prints or any other prints grab attention very easily. These should never be combined with bold jewelry. Instead of giving a trendy look it would give a gaudy and loud appearance. White, beige, black or other solid colors with small prints or plain would be a good.
Some points to remember:
Only one large piece of jewelry should be worn at one point of time.  If the necklace is bold then the earring and bracelet should be much smaller in size.
Vintage jewelry that is bold gives much better look than the modern ones. These may be cheaper to buy and have lots of character and pizzazz. They speak a lot of the wearer's personality.
Bold jewelry looks all the more better if they are colored. They need not be always real. Even the colored fake ones look unique and attract attention even at a distance. If they are glittery and sparkly it's like icing on top of the cake. The can be combined with any outfit.