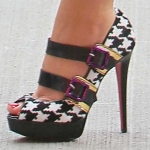 Footwear could enhance your sense of fashion manifold. All you need to do is have a classy sense of footwear selection and a pair of wonderfully pedicured feet to create history in terms of fashion, when it comes to the lower part of your body. For thousands of women, their feet have been the most important part of their body, come-what-may. All they think of when it comes to their sense of style and glamour is how well they could decorate their feet by way of displaying the most pompous footwear.
Trendy footwear could range from the ones with have strings that you tie all over your ankles and above to stilettos that help you look like little Cinderella's running from the ball at the king's palace before their horses change into the mice. All you need to do is concentrate on whatever it is that you desire to have on the basis of which you could suddenly become one of the most fashionable women in the world.
If you happen to be short the world doesn't come to an end for you at all. You need to be see if you can wear the stilettos or wedge heals which apart from lending height to you, will also help you look shapelier. So depending up on whatever color your dress is, invest in the right pair of sandals and see how your friends look around at you in envy.
Similarly, when you are tall you really don't have to wear high heels all the time. It is then when you have an option to choose from which is often why many women love to go in for flats. They look good on jeans that cling to your legs and give you a sexy look too in the deal.
If you are wearing black colored sandals with your toes peeping out of the straps, make sure that your nails are painted with the appropriate color. If your nail paint doesn't match with the footwear that you wear, you will end up looking like a gypsy at the end of the exercise.
Be sure of your feet being nice and clean so that your trendy footwear doesn't end up looking cheap and low standard. There are many facets of the footwear that would astonish you if discussed but the most important one is the fact that everything should go well with your dress when you get ready for an occasion.