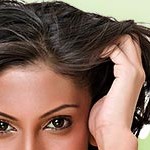 The dilemma many women face is, when to start coloring hair to look younger or attractive. Many women color their hair at home, which is a cheaper and easier option. Some important guidelines must be kept in mind while you color first time or do it regularly. Following tips will help you:
1. You can color your hair when it begins to turn gray or the natural color fades. It is a good idea to start with a little color and gradually increase it. Retouching or colouring will have to be done on a regular basis, maybe monthly, or the original coloured roots will start showing.
2. You may want to experiment with your look but try out a color just a few shades lighter or darker than your own hair colour to begin with. If you go in for a drastic colour change, for example from black to blonde, be aware of how to remove the colour if you don't like it.
3. Sometimes you may wish to add sparkle to your hair, or color just the tips or use a multitude of highlights. You should do so with consultation with your family members or a hair stylist. Of course, it should be compatible with your personality and age.
4. Test using a little colour to make sure you are not allergic to the chemicals used, according to the directions on the pack. Colour a small strand of hair to ascertain what shade your hair will be after colouring.
5. Grease or dirt on hair will form a coating on it and prevent the hair shafts from absorbing the colour, so wash your hair a day before colouring it. Do not wash hair immediately before colouring as protective skin oils get washed off and do not get replenished quickly. You should always use a good hair conditioner after colouring your hair. It protects and nourishes your hair and saves it from becoming dry and brittle.
6. Home colouring is a good option. Most kits provide plastic caps, gloves, colour and detailed instructions. In addition you will need a clock to know for how long to keep on the colour and a wash cloth to wipe off colour if it falls elsewhere. You can apply a line of petroleum jelly along your hair line so colour will not seep onto your forehead and face.
It is advisable to wear old clothes during the process under the apron provided in the kit, as any spots are extremely difficult to remove from clothes.