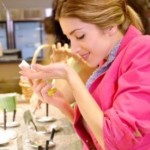 Designer perfumes are highly in demand for their wonderful fragrance. But due to this demand, they are priced very high and beyond the reach of many. Therefore perfume manufactures have come up with the 'copy' of the original and sell them at discounted or lower price. These are called "knock off" scents.
These knock off perfumes are also highly popular world wide. Although they claim to imitate the original but it's not the case always. A deeper understanding about the perfumes would help to choose between the various imitations available for the originals.
Perfume Notes
Perfume contains three different "notes". The "top note" is the fragrance that is apparent for the first 15 minutes the perfume is applied, the "middle note" is the ones that starts of after first 15 minutes and stays on several hours. The "end notes" are the base fragrance of the perfume and that smell stays on for long hours.
How to know Original Designer Perfume Fragrance?
To decide on which knock off scent to buy, it's best to try the original and the duplicate. The original would help to know the difference notes in it. Wearing the duplicate for long hours would to aid to test whether all the notes have been replicated exactly or not. Generally, the top notes are easy to duplicate whereas the middle and end ones are difficult. The designer brands use original and superior ingredients as compared to the duplicates.
Strength of the perfume also varies from duplicate to original. Pure perfumes that are concentrated are hard to copy while the colognes and eau de perfumes are easy to duplicate.
The original scents always come in the form of perfumes, eau de perfumes, lotions, soaps, bath gels or crystals and powders of various sizes. The perfumes and colognes come in dab and spray bottles. But the knock offs don't offer so many variety in products.
The designer brands are priced high due to the huge advertising cost involved in marketing the product. The manufacturer of 'knock off' or cheaper ones, just cash in on the 'popularity' of the original. They buy the 'similar ingredients' like original, manufacture the perfume of same fragrance and sell at lower price.
Ultimately, the decision to buy a perfume is influenced by its scent. If its well- liked, it sells whether there is designer label on it or not and its the original designer brand or a copy of it.