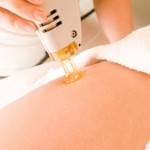 Both men and women are interested in finding ways to remove unwanted hair especially if it can save them daily drudgery. Removal of hair by laser is a semi permanent method of removal of unwanted facial and body hair. It's effect lasts for about two months but you should be aware of the risks involved before you venture to try it out.
The main idea behind the treatment is to destroy the hair follicle in which the hair grows so that growth is slowed down. To achieve this, a concentrated light beam is used in a particular area which is absorbed by the pigment of the hair. A feeling of intense warmth may be felt at the area of impact. At least three sessions are needed for the treatment to be effective. This method can be used to remove hair from face, chest, arms, legs or any part of body.
The light beam can cause some discoloration of the skin although newer lasers do not bring about any changes in the pigment called melanin, which is present in hair and skin, and gives colour to them. This lightening of skin is more pronounced in dark skinned people. Best results can be seen in people who have dark hair and light skin. Others need not be disheartened, as a reduction in body hair is still possible through laser treatment.
Now a word of caution- pregnant women should best avoid this procedure. There is some pain, similar to sunburn, caused by the powerful beam, so if you are unable to tolerate it, give laser hair removal a skip. Keep in mind that at least three sessions are required for each area, each session lasting between fifteen minutes to an hour. However, each person has a unique and different reaction to pain, so the discomfort is different for each individual.
An experienced doctor should be consulted for this procedure. You could go for word of mouth recommendations or meet the doctor and see what facilities he offers. If you are completely satisfied only then go ahead. He should also be able to judge how effective the treatment will be based on your skin and hair type.