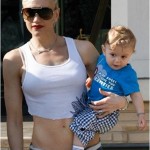 For most women pregnancy comes with a pinch of salt. While they are proud to be a mother of a child they are equally ashamed to have a loose muscled tummy protruding out. After an initial hue and cry many women accept it as a part of motherhood and concentrate on bring up the child. They convince themselves that their duty is more towards catering to the child's needs than to their own. They decide to put off the plans of working out to get the flabby tyres around hip till the child grows up.
But there are others who cannot accept this theory. They want to look attractive, smart, have a figure as before pregnancy and also have the joy of motherhood. This is logical and the right way to think too. If the flabby muscles are not taken care of soon after pregnancy then it would be very difficult to get ride of them later on.
It's not a difficult job but needs dedication, planning and organisation. It's a small price to pay to have an attractive and feminine figure even delivery. A healthy, confident and happy mother would be a lot cheerful and would attend to the baby's needs with more energy and enthusiasm.
The below written tips would help to tone and flatten stomach after pregnancy and to restore the hourglass figure for females:
The mothers should eat a balanced healthy diet. If they had been eating a nutritional rich diet without adding much of fat or sugars they should continue doing so if not should switch over to it. But they could always treat themselves to chocolates, pastries once in a while.
Doing post natal exercise is very important to bring out flexibility and strength in the muscles. The exercise should be rigorous but good enough to burn off the calories. Any sort of exercise could be chosen but important facts to remember are to have regular movement and not ideally sit or lie down in a place. Doing Yoga everyday is a very good option. Other options are short walks initially and later on more challenging ones like walking up the hill or increasing the speed of walking, if you really want to reduce your stomach after pregnancy.
Exercising should involve the 'rectus abdominis' muscles. These muscles move apart during pregnancy and will not join they are forced to join by some of exercises. These muscles should be activated and moved to get to their original position by performing simple pelvic tilting exercises everyday. These are really helpful to tighten stomach after pregnancy.
Above all the tips seen so far, taking enough rest in the form of sleep is very important for the mother. If not they would not be able to attend to the baby and would be feel tired and irritable throughout the day. Ultimately this will have ill effects on their health and the baby's as well. Sleeping when the baby sleeps is a good way to catch up on the sleep. It's good to have a few hands to help at this point of time.
After one pregnancy, it is good for your health to avoid another at least for three years. There are various contraceptives helpful for birth control.