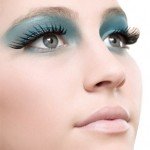 When we look at the actresses on the television, we often hate the way we look. Instead of trying to change the way we have been for years, we simply sit and weep in the corners in vain. We curse our stars and that is what we should never do. Today whatever make up can do is no body's business which not many of us know. Whether it has to do with accentuating your eyes or concealing the unevenness of your facial skin, make does everything without much energy expenditure too. Why do we have to go through painful and exorbitant surgeries when we could get the same results by way of make up as well?
Let us go ahead and discuss more about the art of make up so as to make everyone understand how simple it is to transform ourselves. Eyes are very important and always help express our emotions better than any other part of our body.  So, when it comes to setting an impact on the man you always loved, you just cannot be kidding anymore. You have to learn the tricks of make-up at any cost. So bring home some products that would aid you to have the look that could make a thousand heads turn in envy and admiration, both at the same time.
Eye liner, mascara, eye shadow, eye brow highlighter and kohl are some of the eye make-up products that could help change the way your eyes look. Start with cleaning your face with a mild soap or cleanser and dab dry. Then apply the foundation that your face would go well with and apply the eye shadow of your choice. The whole time you need to keep only one thing in mind which is to make sure that the products are genuine and good quality for if they aren't that way, they might end up ruining the happiness of your skin forever and ever more. Eye liner on the upper lid would help define the shape of your eyes making them appear nice and big. You might as well curl your lashes with the help of a curler. This would give a good effect to the overall make up exercise.
Eye make up is complete only when you have finally applied the kohl pencil on the inside of the lower lid. This is the right way to accentuate your lovely set of eyes. You could also use colored liner pencils and kohl to give a peppy look to your face. Using lenses that are colored could also be helpful enough to give you the kind of look that you are looking for.
Using shimmer below the brow would also help give your eyes a good impact. Highlighters have always been in vogue, hence using shimmer instead of the old fashioned white shade could change the look drastically. Try experimenting new things every now and then for that is the only way you could learn this art well. After all eyes are important, aren't they?