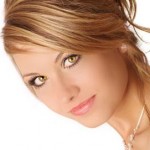 Women with hazel eyes are envied by all, as these eyes be highlighted very well and all the colors in the eye can be brought out with good makeup skills. Here are a few tips for make those hazel eyes stand out and attract attention.
Golden Specks: To make the golden rays in the hazel eyes, golden eye shadows should be used. A lighter should be applied from the eyelash line to the eyebrow, a medium shade on the creases on the eyelid and a thick layer with a smudged effect of the darkest shade on the ridge of the eyelashes. The different shades should be blended well and should be evenly spread. For a finishing touch, a black eyeliner and jet black mascara should be used. This would make the golden honey color in the eyes stand out. For a night out, the make up could be more visible. Therefore, the dark shade above the eyelash could be made thicker. Eyeliner could be made to be more visible with a mascara, which may be used a little more than usual.
Green Specks: To bring out the green specks, the same procedure as above should be followed. The only exception is that the golden shade of eye shadow must be replaced with green shade such as emerald color. The shades should be evenly blended and to finish off the eye makeup black eyeliner and mascara should be used. This would make the eyes gaze at the hazel eyes at party in the night.
In the day, instead of green a neutral eye shadow that would match the skin tone could be used. The black eyeliner should be replaced with deep emerald green but the mascara should be still jet black.
Blue Specks: To bring out the blue tint in the eyes, three shades of purple could be used instead of green or golden color. Since using blue would be style of yesteryears, purple is thought of as a close match that brings out the blue specks. The eye makeup would be complete only with a black eyeliner and mascara.
Instead, three shades of the same color with would be neutral could be used and a blue eyeliner could be used on the ridge of the eyelashes. This would give the same effect as above minus the overdone look.
Brown Specks: The same technique as above could be followed except that the purple be replaced with three shades of brown. For a finishing touch, this time brown eyeliner should be used followed by a brown mascara to highlight the eyelashes.
Although the above could be good for the night, for the day, natural colors that would complement the skin shade should be opted for. They should be applied in the similar fashion as above. The eyeliner used should be light or medium brown and mascara a deep brown one.
The hazel eyes can be highlighted with effective makeup and the various colors could be brought out.