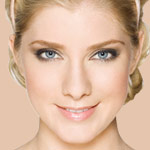 Glossy film and fashion magazines set the standards of beauty for women. They begin to aspire to look like the women featured in them, not realizing that their beauty is only skin deep, achieved by using beauty products. Perfect smooth skin which appears to be poreless is created by beauticians. The technique of applying these products plays an important part.
By following the process described below you will have a poreless skin and will be ready to face the world in a different way.
1. To start with, you have to choose a foundation primer that suits you best. The primer is the first coating applied before application of any makeup. Primers are colourless liquids available for different skin types – dry, normal and oily skin. Choose one that is right for your skin type. Take a small quantity of foundation primer in your hand and apply it liberally on the face so that the total face is covered evenly. If you find some deficiency on any portion, additional layers can be applied, as it is a light product.
2. After about five minutes, during which the primer will dry, apply tinted moisturiser. This is a very light product and gives a boost to the foundation. It gives good coverage as well. Moisturisers are also available for all types of skin so select the one suitable for your skin. This has to be applied in the same manner as the primer was applied.
3. When the moisturiser dries, start with the foundation. Foundation comes in about six different forms to suit different skin types. For best results it is better to consult an expert before buying one for yourself. Foundation is available in stick, liquid, powder and cream form. For application, a makeup sponge should be used. Apply only on areas needing extra covering. To avoid blotchy effect it should be properly blended with the moisturiser. Use a complexion brush if using powder foundation.
4. Finally it is the turn of a concealer. Concealer is basically applied to conceal some apparent problem with your skin, like scars, dark circles or pigmentation. It should be applied to cover these specific areas only. Dab just a little and blend the concealer well using a makeup sponge.
5. Finally it is time to apply setting powder. It should be translucent and colourless. Use a brush to apply it gently over the whole face. This powder also helps to dry out excess oil if it is present in your skin.
Remember, selection of the right product is most important to give the appearance of a poreless skin. You can add more allure with lipstick and eye makeup.