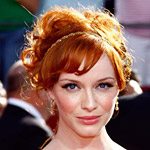 It is rightly said that it is difficult to do full justice of doing makeup on a woman with red hair. The purpose of makeup is to enhance beauty. Red heads or the women with red hair are unique in a sense and the makeup further enhances their personality. Unlike earlier times, these days being a redhead is a real gift of nature to you and proper makeup will make you look stunning. Redheads with a fair color can look gorgeous after makeup.
For redhead makeup tips, to start the process it is essential to take full care of the face in particular and all exposed body parts in general. It is essential to take full care of the skin. Face should be washed at regular intervals and exfoliated to remove dead skin. While doing  makeup the following should be kept in mind:
Facial makeup tips for redhead: The trend these days is to look natural. Except for formal occasions, heavy makeup should be avoided. The shade of makeup especially for redheads should be as far as possible close to the natural skin. Stay away from pink tone of facial makeup as red hair adds warmth to your face. To cover freckles, if any, apply a natural shade of foundation. To hide spots and blemishes on the face, use green based concealer and set the makeup with powder.
Cheeks: You have to try and choose the blush on which suits you the best. You can try cream based, liquid based or mineral based blushers. In case of fair skin color coral and peach shades will suit the best. If you are of slightly darker hue, raisin color can be tried.
Eyes: You can experiment with a variety of shades of eye makeup. Most of the colors will suit you, neutral tones being best. You can go in for green, blue, golden and bronze colors. Avoid black as it may look too harsh in contrast with the hair.
Lips: Just like eye makeup you can try identical or contrast shades for your lips. If you want to use red, use it with brown a base.
For day time brown based shades like peach and dull gold will suit you best. Always remember one thing, your hair color radiates and gives warmth to your face. Effort should be to keep the warmth while doing makeup.