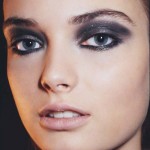 "Smoke your eyes and kill them all". What does the aforementioned line make you think? Are you in doubt about whether or not we are discussing beauty in this article? Well, in that case, it is imperative to know that when it comes to the hot and sultry smokey effect, there couldn't be just any other look that would do the job better. Yes, come to think of it, you have to understand that if you want to set an impact on the party people get the Smokey Effect for your eyes and see how it works wonders for you.
Smokey eyes look good for evening get-togethers and ceremonies that you have to attend. So make sure that you apply a good foundation that is one tone lighter than your skin color before applying the shimmer on your cheeks and the T-Zone area. Use a bushy brush to apply the shimmer incase it is a powered one so that it gets evenly distributed. Then use a nude lip-color with gloss and begin concentrating on your eyes. Start by applying the black shadow on your lids. Make sure that it blends well after which apply shimmery white eye brow highlighter to make your eyes look nice and distinct whenever you are venturing out for a party, etc. Finish by using a mascara to give your eyes a naturally awesome look.
Kohl on the inside of the lower lids would help give your eyes the look that would make you stand apart from the crowd.
Incase you think of using silver or gold with the black color on the eye lids, it would help you look even better. Try experimenting with shades and colors of various kinds so as to get a new look each time you make your eyes up for an occasion. Using colored lenses for the same will also help give you a newer appearance. Everything that will make your eyes get the look that you always wanted for any occasion should be tried.
Eye make up need not be restricted to just a few tips and styles for there are numerous ways and means of doing up your eyes to make you look stunningly beautiful always everywhere.
Video Courtesy: sandygold25