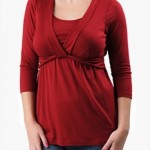 During pregnancy and after the birth of a baby, the mother has to settle down into some sort of routine. No doubt the preceding months have been spent setting up a nursery, visits to a doctor and then the actual birth of the child. This little bundle of joy needs diaper changes and feeds at regular intervals. If you are breast feeding, you need tops which will be suitable both in the few weeks before child birth and when you are nursing your baby.
Choose tops which are smart and practical. Casual tops are needed for everyday use when you are at home. At times you need to go out so a slightly formal look is necessary. Buy tops which are comfortable and stylish yet allow you to nurse your baby with ease in a discreet manner. You will have put on weight so it should make you look slim till you can get the extra pounds off.
The weather has to be kept in mind. The top should afford you warmth during the winter and be light weight for summer months. For winter find full sleeved tops preferably in knit fabric or any thick material to fit you well and keep you warm. The sheath should be layered so that nursing is easy. The neck could be V-shaped or round. An empire waist line is a good style as the fabric gathers under the bust and covers the stomach.
Tank tops are another option. Wear them with a seamless bra having nursing clips in the front for easy access. These bras give more support than normal bras. Tank tops can be worn with skirts, jeans and bermudas. They can be used for layering in cold weather. They can be paired with loose pants when you want to exercise. Buy tank tops which are fitted so that they highlight the sides of the waist and not the stomach.
You can try a Japanese style top. It has an empire waist line and is a cross over top. Some of them have a sash that ties under the bust. That looks fashionable while offering extra support. It is suitable both for office wear and day out as it looks like a jacket. You can combine it with trousers or slacks. Your top should be versatile and functional so that you do not have to keep changing them to suit various occasions and yet they should help you in playing the role of the mother.